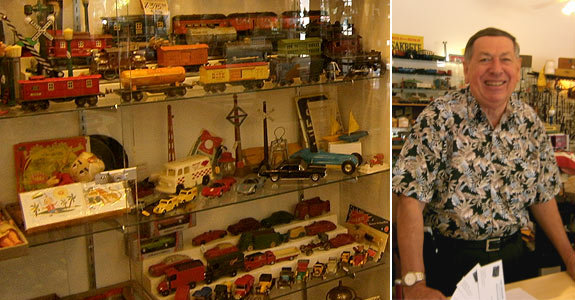 Our Treasure Chest is located at 3563 Main Street in a charming historic building in the heart of downtown Riverside. Orville Baker who owns the store with his wife Elaine has been in this building for 4 years but moved to a larger space a year and a half ago when it became available. The larger space allowed them to reorganize the store to feature their collectible 'fun' toys and trains while still stocking general antique items.
The store is definitely a different type of antique store with the majority of items collectibles that can be carried in one hand. All of the items have been used and loved in the past and are now waiting for a new owner to treasure them once again. The store features not only toys and trains but also 'guy' stuff like antique tools and 'girl' stuff like poodle figurines and pins. It also has a collection of Riverside memorabilia.
Orville Baker has been in the antique business for over 40 years and has a well-earned reputation as a specialist in toys and specialty collectibles. He constantly travels to other cities to source collectibles and is frequently called upon to identify items and assess their value. He says that traveling gives him the opportunity to not only discover new items but to also meet people of a kindred spirit.
The reputation of Our Treasure Chest in the antique and collectible world is such that customers come from all over. Orville says that he encourages people who may be driving to LA from Palm Springs or Phoenix to take the 60 West rather than the 10. "It gets them to the same destination but the drive is less congested and they can stop off in Riverside to visit our downtown and its shops and restaurants".
Orville says that part of the success of Our Treasure Chest is that he has developed his own clientele and not depended on the Mission Inn or the Convention Center for his customers. And his clientele consider Our Treasure Chest as their own best secret, often not sharing where they find their treasures. "We try to make this a fun experience for them so that they leave happy with their purchase, no matter how large or small", he says.
And make a note to visit Our Treasure Chest during the Christmas holiday season. Orville enjoys decorating the store and the windows with a variety of lights and decorations, including antique ornaments of course!
Our Treasure Chest
3563 Main Street
Riverside, CA 92501
951-686-5200
Cell Phone 951-956-3314
bakerstoys@verizon.net
Hours of Operation – Tuesday through Saturday 10 am to 5pm
Also available by appointment