20th Annual Festival of Lights

November 26, 2012 8:53 pm
Nov 23 – Jan 5, 2013.

The 20th Annual Riverside Festival of Lights on Main Street Riverside is your chance to experience the most dazzling holiday spectacle south of the North Pole.
The Festival offers five weeks of holiday merriment in Downtown Riverside, celebrating the season with family activities that include the "Switch-On Ceremony"; holiday decorations and lights on The Mission Inn Hotel & Spa, Mission Inn Avenue and on City-owned buildings; the Inland Empire's first outdoor ice skating rink; holiday-themed vendors; family-friendly live entertainment; and of course, Santa Claus.
The magic continues for festival goers as they glide under the stars on an outdoor ice skating rink located on Main Street Riverside between University and Mission Inn Avenues. Click here for more Ice Rink information, such as Ice Rink Hours of Operation, Skate Specials and to find out how you can obtain your 2012 Frequent Skater Card.
In addition to the lights and ice skating, holiday enthusiasts can be dazzled by more than 225 hours of live holiday entertainment, unique shopping and creative dining along Main Street Riverside.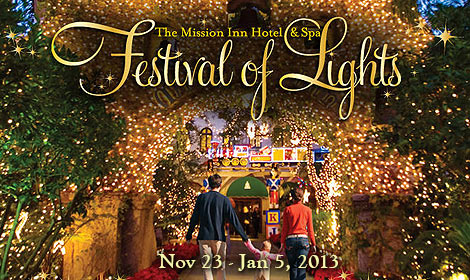 For more info: http://www.riversideca.gov/fol/
Categorised in: Uncategorized
This post was written by admin